Sunday, September 18th, 2011
Come Join us for a 3 day retreat/creative frenzy with amazing artists: Wanda Montgomery, Annie Morgan, Mo Mosyjowski and Me… If I wasn't teaching this, I would definitely be attending!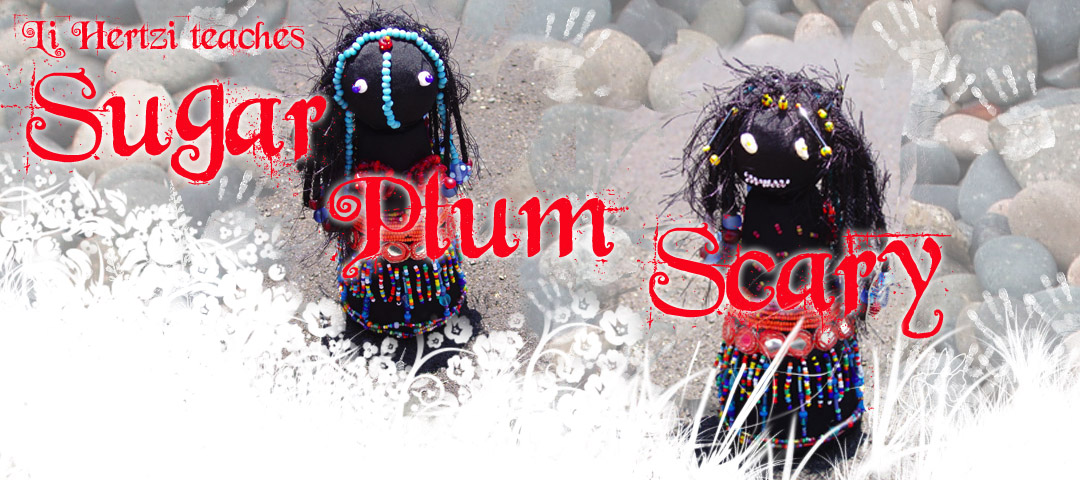 I will be teaching my Sugar Plum Scary Class, a no-sew doll that not only gets your creativity going full force, but also allows for an easy way to let your friends know what you are REALLY thinking!
You will learn:
The finer points of wielding your glue gun with accuracy, confidence and the best results.
How to construct a two sided stump doll without ever picking up a needle.
Using your sketch book to preview your ideas and access those deep hidden creative nuggets.
A fun way to string hair so it will look stylishly beaded.
How to find the face of your dark and wickedly funny side and the contrasting mug of that ever-present sunny side of yours.
A little about the history of the fertility and ceremonial dolls of Ndebele and their uses and meanings.
Unfettered embellishing with all that stuff you have left over from your many art and craft adventures, and some basic beading skills as well as scrap quilting collage.
And finally you will end up with a doll that can quietly, without a single syllable said, announce your mood to the world at large and bring a smile to almost any face.
Go to their website for info on the rest of the presenters, the accommodations and the sign-up sheet!
http://www.cvartcenter.org/workshops.html
Enjoy the day and stitch, stitch, stitch away!  Li
Category art, art, art dolls, Bernina, creativity, Uncategorized / Tags: Tags: Annie Morgan, art doll adventures, Cuyahoga Falls, Cuyahoga Valley Art Center, li hertzi, Mo Mosyjowski, sewing, sketch book, sketching, Sugar Plum Scary Class, Wanda Montgomery, women in the arts, /
Social Networks : Technorati, Stumble it!, Digg, delicious, Yahoo, reddit, Blogmarks, Google, Magnolia.